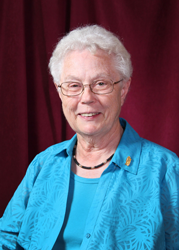 Joyce Marie Piotrowski was born on October 30, 1937, in the family home. She was the fourth of five children born to Frank and Mary (Kosloski) Piotrowski who owned a farm near Foley.
She attended Foley High School for her sophomore and junior years and St. Francis High School for her freshman and senior years; she became acquainted with the Franciscan Sisters of Little Falls through the catechism classes she attended every Saturday morning. She had always thought about being a sister and found a very restful and joyful atmosphere at St. Francis High School and Convent.


On December 8, 1954, Joyce Marie entered the postulate of the Franciscan Sisters and on July 31, 1954, she was accepted into their novitiate and given the religious name, Sister Mary Faith. She made her first profession on August 12, 1956, and her final profession on August 12, 1961.


Her entire ministry has been in elementary teaching in the Diocese of St. Cloud. At present, she is a foster grandparent at All Saints Academy, St. Cloud campus. Sister Joyce Marie loves children and their openness to everything. To witness a student's growth and change has always been, for her, an amazing experience. She is grateful for being able to foster any part of that miracle as it unfolds in children's lives.


What she values most in her religious life is the singleness or oneness of purpose--to direct everything toward one goal, Christ. In this she can center all her energy, work and love. In Community she feels enriched through the support of a group of dedicated women. In poverty she can find happiness and joy in simple things and of using and caring for only what she needs without having many possessions which could hold her back.